The Art Car Museum's Spring Exhibition, 2022:
The Art of Harold Bourdier
Our hours will be 11 am - 5 pm Wednesday - Sunday, by appointment only.
In Loving Memory of ANN O'CONNOR WILLIAMS HARITHAS, owner and Co-Founder of the Art Car Museum.
Ann's vision has brought art and Art Cars with inclusivity to the Houston community and beyond.
To quote Ann, "It is my deepest wish to see the Art Car movement flourish, because it brings the drama of art beyond the walls of the museum to people of all walks of life."
She was a mentor and showed support and encouragement to not only the artists at the museum, but also her staff.
Her sparkle and "joie de vivre", will be missed, but not forgotten.
May we all live on a little more like Ann.
It is an honor to have worked with and for Ann, and to keep her vision vibrant and alive!
The Art Car Museum, or "Garage Mahal" as many know it, opened in February 1998. It was founded as a not-for-profit arts organization by Ann Harithas, artist and long-time supporter of the Art Car movement, and James Harithas, currently Director of the Station Museum of Contemporary Art, Houston, Texas.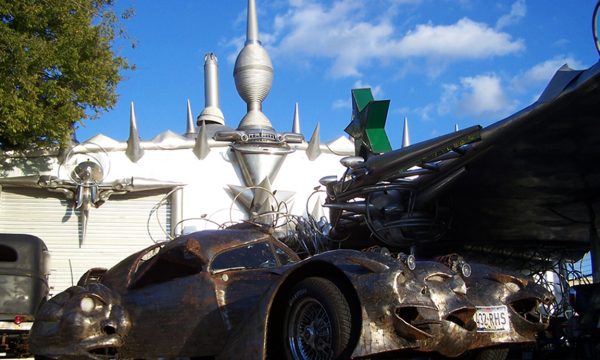 Opening Hours
CLOSED: Mondays & Tuesdays
OPEN: Wednesday-Sunday, 11am-5pm
Please call for same day appointments,
713.861.5526
Email:
artcarmuseum@gmail.com
or Call for all other appointments, or if you need further assistance.
Admission is always FREE!
Art Car Museum
140 Heights Blvd.
Houston, Texas 77007
713.861.5526