The Rørpost Collaboration Project
2 COUNTRIES – 4 EXHIBITIONS – 42 ARTISTS – 84 WORKS OF ART
Art Car Museum, Houston, TX, USA
Opening Reception: September 10, 2016, 7 – 10 PM
On View Through October 30, 2016
Houston's Art Chatter Collective announces our participation in the Rørpost Collaboration Project. The project's purpose is to bring international artists together using collaborative projects as a pipeline for the flow of creative energy, the development of friendships, and the celebration of freedom of expression. Twenty-one artists from Esbjerg, Denmark were partnered with twenty-one Houston artists. Each artist started a work on paper. These works were sent across the Atlantic to be finished by their artistic partner. Each artist subsequently created a new work in response to the experience of the collaboration in a medium of their choice. For more information on the Rørpost Collaboration Project visit http://www.artcollaboration.org/. Rørpost Houston was made possible in part through the Houston City Hall's City Initiative Grant, Houston Arts Alliance, Royal Danish Embassy, Art Car Museum, Fiscal sponsor Fresh Arts, Art Chatter, Blå Døre, Art Friends, Blue Water Shipping, Savage Henry Films, ArtHouston Magazine, Aker Imaging, Local Houston Magazine, and Boehme Café Cultured Cocktails.
THE ARTIST PARTNERS:
Becky Soria + Marianne Skjølstrup; Damon Thomas + Johny Wilslew; Carol McKee + Alf Pedersen; Kay Kemp + Tina Asmussen; Donna E. Perkins + Astrid Hygum; Lisa Marie Hunter + Connie Borgen + Kamila Szczesna; Nicola Parente + Lars Henning Andersen; Tami Merrick + Flemming Rendbo; Brenda Bunten Schloesser + Jette Dümke; Jan Jbeili + Jytte Jespersen; Renata Lucia + Erik Brøndberg; Raymond Saucillo + Per Lenholdt; Andis Applewhite + Lene Hassig Vilslev; Jennifer Madeley Dunn + Birgit Juhl; Kay Sarver + Niels Kongsbak; Joe Aker + Gustav Iwinski; Barbara Tennant + Rich. Dethlefsen; Karine Parker Lemoyne + Lotte Lambæk; John Bernhard + Gitte Hadrup; Tracey Meyer + Sue Reeves; Trudy Askew + Søren Morns
The project currently consists of four exhibitions: two in Esbjerg & two in Houston.
· ESBJERG, DENMARK EXHIBITIONS: City Hall, Esbjerg, Denmark, 04/2016 and
Arier Gammeltorv at UCSyd, Esbjerg, 05/2016
· HOUSTON, TEXAS EXHIBITIONS: Art Car Museum, 09/10/2016 and Houston's City
Hall, 12/05/2016
Rørpost is a pneumatic tube in Danish. In the past, pneumatic tubes were used in department stores to make change or exchange paper messages. In this case, Rørpost is a metaphor for sending the paper exchange and art ideas across the Atlantic. The verb "Røre" means "to touch" when translated to English.
Art Chatter is a collective of established mid-career visual artists. This collective offers its members a forum for the exchange of creative ideas, information, and critical responses. Art Chatter was founded in 2004 by Tami Merrick and Lynne Rutzky with the primary inspiration being the COBRA, an artist collective formed in 1948 in the Café Notre-Dame, Paris. For more information on Art Chatter visit http://artchatter.wix.com/artchatterhouston or https://www.facebook.com/artchatter/?fref=ts
Press Release Contact:
Tami Merrick
Telephone: 713-320-0370
Email: tmerrick@pagethink.com
&
Alicia Duplan at the Art Car Museum
Telephone: 713.861.5526
Email: info@artcarmuseum.com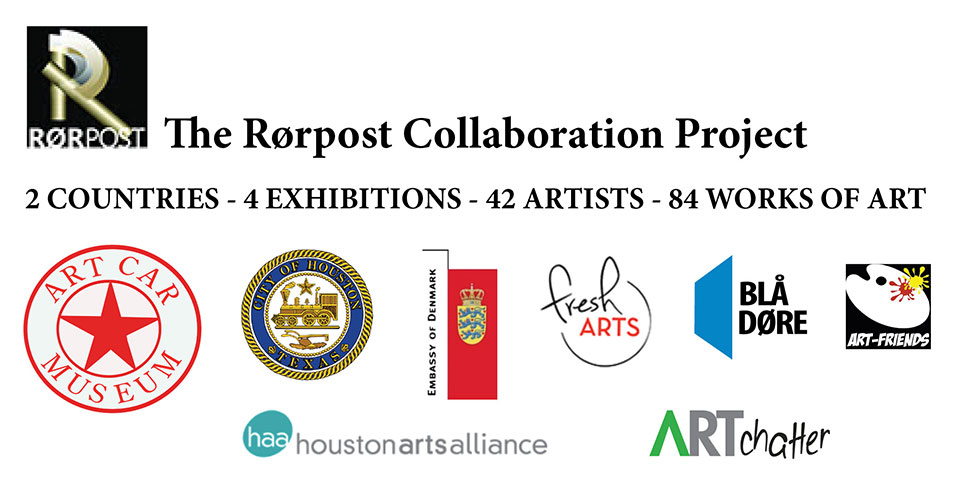 ---